Charlie Parker Memorial
Introduction
Author-Uploaded Audio
This eighteen foot statue commemorates the life and career of Charlie Parker, one of the most influential jazz musicians of the 20th century. Parker grew up in Kansas City and played at many Vine Street nightclubs before pursuing a musical career in New York and California. He is widely considered to be one of the creators of bebop. The statue features Parker's head tilted downward, eye shut, and lips pursed as if he were playing the saxophone. At the base of the status, an inscription reads "Bird Lives" a reference to Parker's nickname and his long-lasting legacy.
Images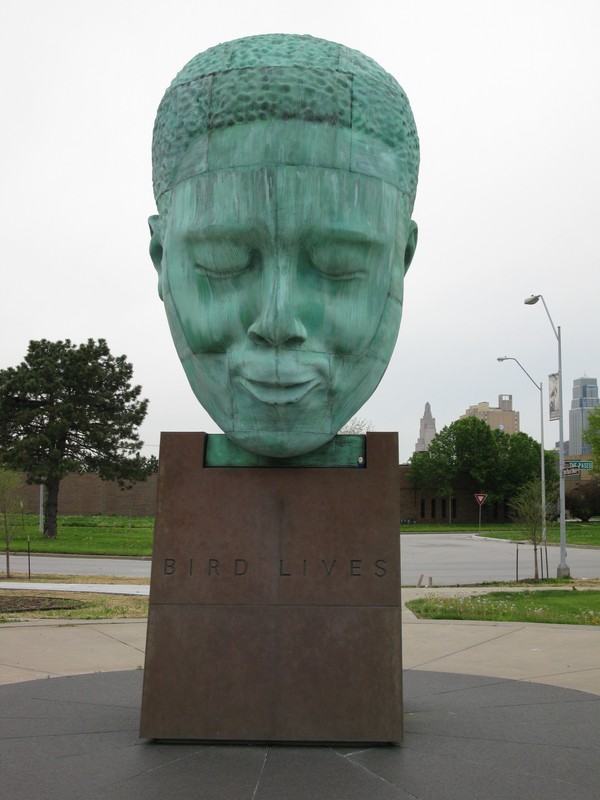 The Charlie Parker Memorial was created in 1999 and sits near the American Jazz Museum. Image obtained from Kansas City Parks & Recreation.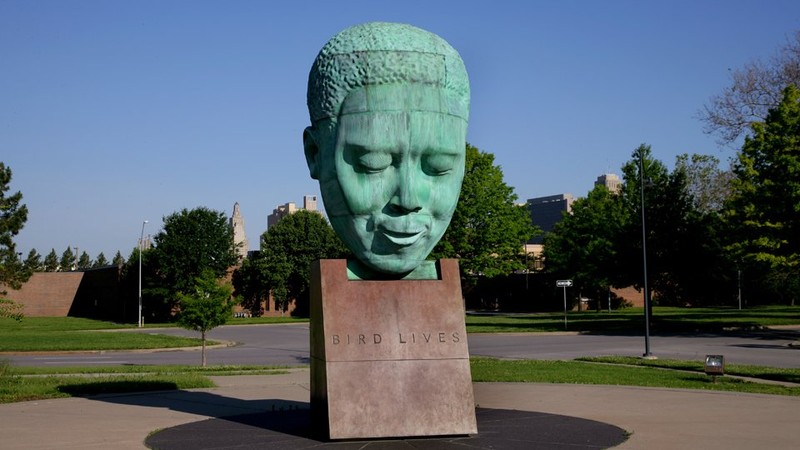 Considered one of the greatest saxophonists and jazz musicians, Charlie "Bird" Parker (1920-1955) is widely acknowledged to be one of the pioneers of bebop. Image obtained from Wikimedia.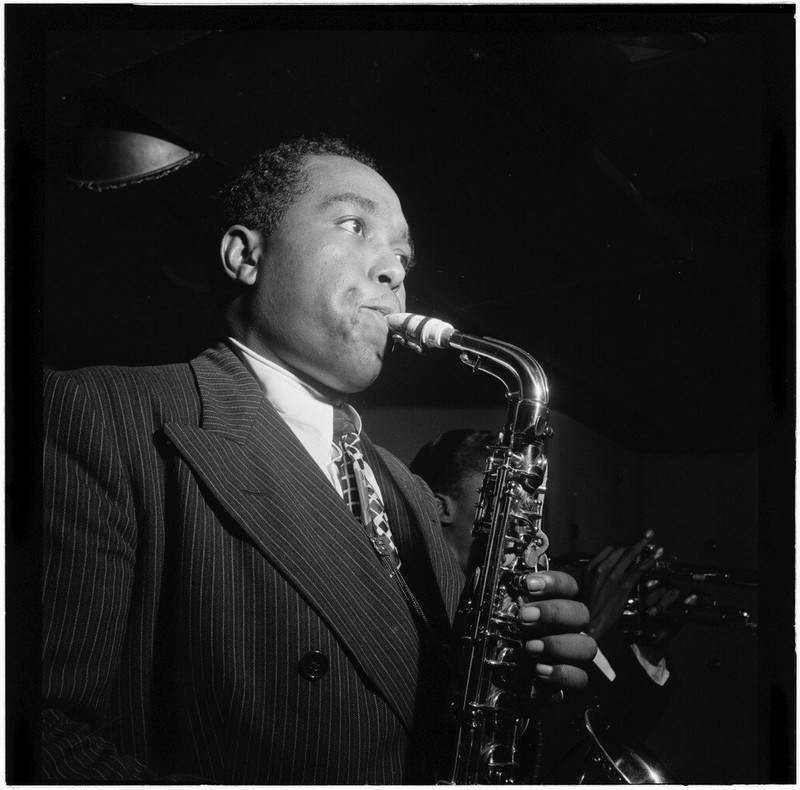 Backstory and Context
Charles Christopher Parker Jr. was born on August 29, 1920 in Kansas City, Kansas. At the age of seven his family moved to Kansas City, Missouri. Parker learned to play the saxophone at an early age, and when he was fifteen he dropped out of high school to pursue a music career. For the next several years he played jazz music at various nightclubs in Kansas City's Vine Street district. Kansas City was one of the major epicenters of jazz in the 1930s and 1940s, which had a strong influence on Parker's musical development.
In 1939 Parker moved to New York City in search of new opportunities. He continued to refine his music and cooperated on works with other jazz musicians such as Dizzy Gillespie, Max Roach, and Miles Davis. In 1945, Parker and Gillespie toured together in Hollywood, where they invented bebop. Bebop was an upbeat, fast-paced, randomized form of jazz that relied on faster tempos and improvisation. Some of Parker's most popular bebop songs included "Koko," "Billie's Bounce," "Now's the Time," and "Thriving on a Riff." It was also around this time that Parker received the nickname "Bird" or "Yardbird." The reasons for this nickname vary. One given explanation was that Parker was considered by his friends to be free as a bird; another is that he accidentally hit a chicken while driving.
While Parker achieved popularity as a pioneer of bebop, he struggled in his personal life. For many years he suffered from a heroin addiction, the result of treating injuries he received in a car accident as a teenager. He wasted money on heroin, became emotionally unstable, and frequently missed performances and recordings. He made several attempts to become sober, but continued to relapse. In 1955 Parker died from pneumonia at the age of thirty-four. At his mother's request his body was brought back to Kansas City and interred in Lincoln Cemetery.
Over the years Charlie Parker has been honored in many ways for his contributions to jazz and bebop. He was posthumously given a Grammy Lifetime Achievement Award and other accolades. The Charlie Parker Jazz Festival in New York City and the Annual Charlie Parker Celebration in Kansas City are held each year in his honor. Kansas City also annually hosts a Jazz History Tour, which takes visitors on a walking tour of key sites from Charlie Parker's life in the Vine Street district. In 1971 the Charlie Parker Memorial Foundation was established to teach music to youth in Kansas City urban neighborhoods. Parker has also been the subject of a 1988 biographical film, Bird, and even a 2015 opera, Charlie Parker's Yardbird.
In 1999 this monument to Charlie Parker was erected on Vine Street near the American Jazz Museum. It was created by artist Robert Graham and paid for by Kansas City along with contributions from the Jules and Doris Stein Foundation and the Oppenheimer Brothers Foundation. The eighteen foot tall memorial consists of a green sculpture of Parker's head, with his eyes closed and lips pursed as if he were blowing a saxophone. The head rests on top of a pedestal with the quote "Bird Lives" inscribed on it. It is said that in the days following Parker's death in 1955, the phrase "Bird Lives" began appearing in graffiti throughout New York City.
Sources
"Charlie Parker." Biography.com. 2014. Accessed June 14, 2018. https://www.biography.com/people/charlie-parker-9433413 
"Charlie Parker Memorial – Bird Lives." Kansas City Parks & Recreation. Accessed June 14, 2018. http://kcparks.org/places/charlie-parker-memorial/
"Charlie 'Bird' Parker (1920-1955)." The State Historical Society of Missouri. Accessed June 14, 2018. https://shsmo.org/historicmissourians/name/p/parker/ 
Roe, Jason. "Bird Lives." Missouri Valley Special Collections. Accessed June 14, 2018. http://kchistory.org/week-kansas-city-history/bird-lives
RoverTCB. "Charlie Parker – Koko" (video). Posted August 8, 2008. Accessed June 14, 2018. https://m.youtube.com/watch?v=okrNwE6GI70
Parker, Charlie, and Charlie Parker. Definitive Charlie Parker. Verve, Universal City, Calif, 2000. Audio. https://www.loc.gov/item/ihas.100010326/.
Image 1: http://kcparks.org/places/charlie-parker-memorial/
Image 2: https://en.wikipedia.org/wiki/File:Portrait_of_Charlie_Parker_in_1947.jpg
Additional Information