Foggy Bottom's Grandest House
Introduction
Our walk starts at the Fitzgerald House, the largest historic house in the Foggy Bottom Historic District (840-844 New Hampshire Ave.). Built in 1886, it was used as a grocery store and residence from the 1890s to the 1950. Its two-story brick construction and architectural details are typical of the neighborhood, but it is built on a more massive scale. There are two front entrances on New Hampshire Avenue and one entrance on I Street. And for as long as anyone remembers, the house has been painted yellow. The house's large landscaped yard features peonies, roses, and hollies. The Backstory and Context section below defines some architectural terms used on the tour.
Images
Fitzgerald House commands the corner of I St. and New Hampshire Ave.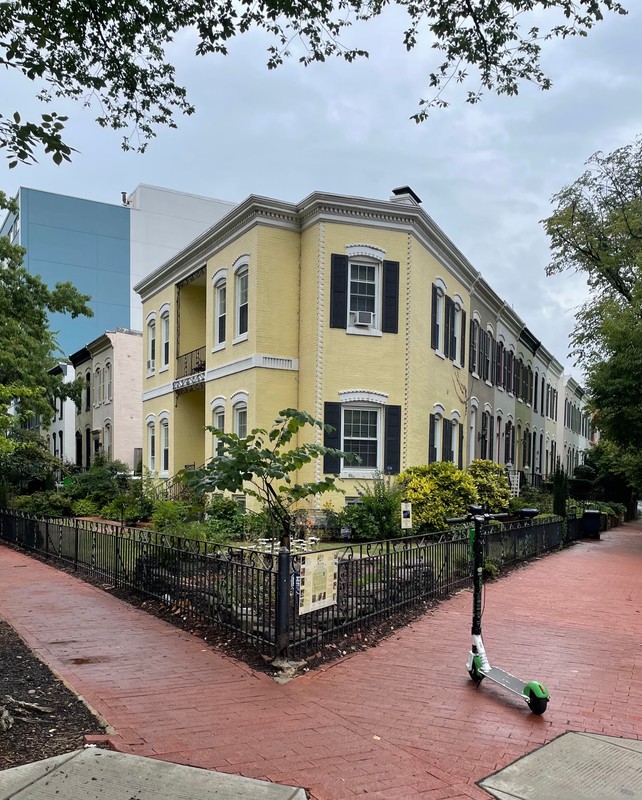 The front of the Fitzgerald House faces New Hampshire Ave.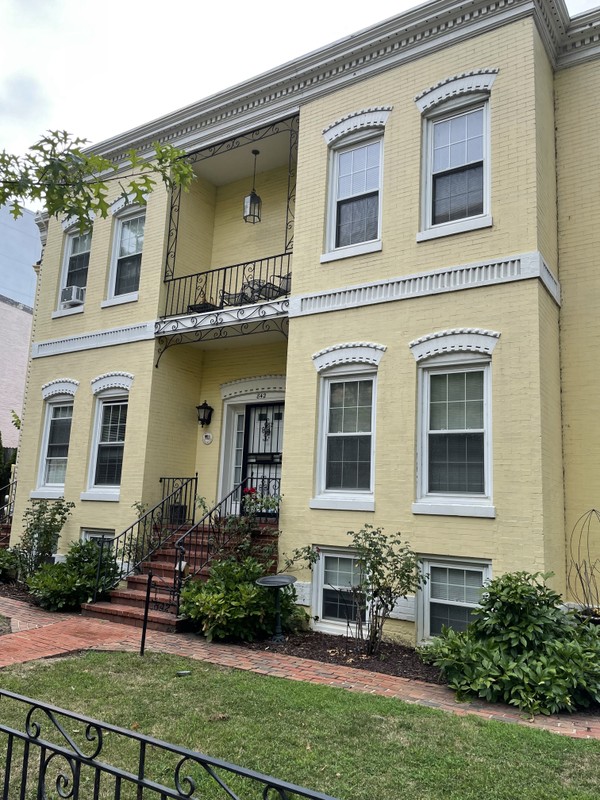 The narrow side of the Fitzgerald House connects to the adjoining row house (which faces I St.)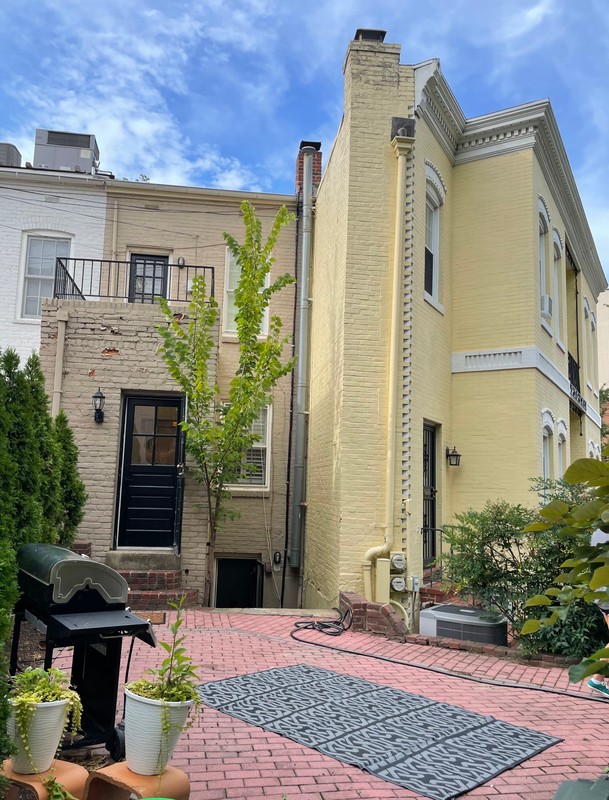 Window details show molded arch above window and brickwork and trim, typical of the neighborhood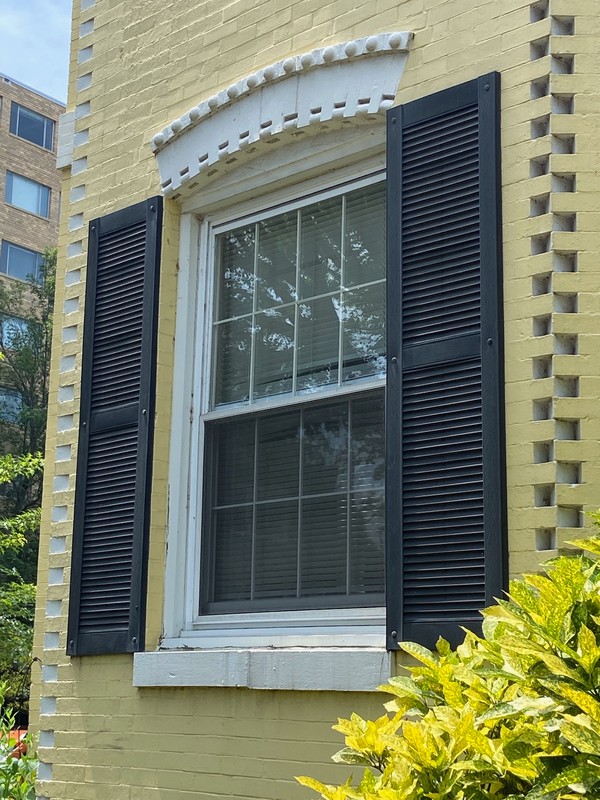 Backstory and Context
The Fitzgerald House duplicates the same architectural motifs - a decorated cornice and segmental arches with beaded moldings over the openings - as the adjoining row houses to give the block symmetry. It anchors a 16 unit group of row houses on I St. and New Hampshire Ave. that were built by J.H. Grant for developer Samuel Norment in 1886. The brick is laid in a "stretcher bond" pattern in which the vertical joints are staggered each time by half a brick. The recessed entry door in the middle of two bays on each side the design gives a grander presence than its neighbors.
It is referred to as the Fitzgerald House after the family that occupied it for nearly 60 years. John Fitzgerald took up residence by 1892. In 1895 he married a young Irish immigrant named Katherine Kelleher at St. Stephen's Church. (That church building was replaced by a modern church in 1961, but remains at the same location at 2424 Penn. Ave. NW). The Fitzgeralds operated a grocery store, the M&J Market (named after their children Mary and James) until 1950. The house remained in Fitzgerald family until 1958. Restored in 1960, it was converted into several apartment residences. Steve Timlin, a devotee of Foggy Bottom and its history, lived there from 1986 to 2008.
ARCHITECTURAL TERMS relevant to the Historic District:
Corbel: A piece of stone, wood, brick or any other building material that projects from the face of a wall; generally used to support a cornice.
Cornice: The top course of a molding or well when it serves as a crowning member - here the brickwork along the roofline.
Course or stringcourse A horizontal row of bricks or other masonry units.
Dentil molding: Molding that has a repeating and projecting block pattern, used to decorate cornice assemblies.
Dormer: A window that projects from a roof.
Façade: The face of the building, the exterior that looks out onto a street or open space.
Frieze: A plane or decorative band on the top of a wall immediately below the cornice.
Lintels: A horizontal structural element over an opening such as a window or door, can be load bearing or ornamental.
Mansard roof: A four-sided, double-sloped roof, where the lower slope is steeper than the upper slope. The lower slope is typically punctured by dormer windows.
Molding: A piece of trim that introduces varieties of outline or curved contours in edges or surfaces.
Pediment: A triangular space created by a front facing gable roof.
Trim: The decorative casing used around a door or window frame.
Turret: A small tower, usually supported by corbels.
Sources
"Foggy Bottom Friends: Steve Timlin, Keeping up with the Neighborhood," GWU Hatchet, Dec. 1996, at 9.
DC Recorder of Deeds Office
DC Historic Preservation Office, HistoryQuest (see link below)
Phillips, Steven J., Old House Dictionary: An Illustrated Guide to American Domestic Architecture, 1600 to 1940, New York: John Wiley & Sons, 1994.
Image Sources
Leone/Vogt 2021

Vogt/Leone 2021

Vogt/Leone 2021

Vogt/Leone 2021

Additional Information