Colorful Cows, the Capitol, and Milk Mural
Introduction
Just after the lamp post sculpture, turn right on the access road before the first set of row houses on I Street. You can't miss Daniel Zeltner's red, white, blue and Black mural of cows, spilt milk, hearts and the Nation's Capitol. The lead blue cow, with its cow bells and heart-shaped spots, stands on a large red heart and the smaller red cow sitting in a puddle of milk are central figures. But keep looking because there are so many other images to see. The cow's face that turns the corner of the wall adds a touch of dimensional whimsy.
Zeltner, who resides in Switzerland, was visiting Washington, D.C. and became friends with the house's owner. He painted it in 2014 at the owner's request.
This row house itself (2532 I St.) was built by immigrant Irishman craftsman Peter McCartney in 1889. The interior retains the original mantle that McCartney also designed.
Images
Blue cow with heart-shaped dots and cow bell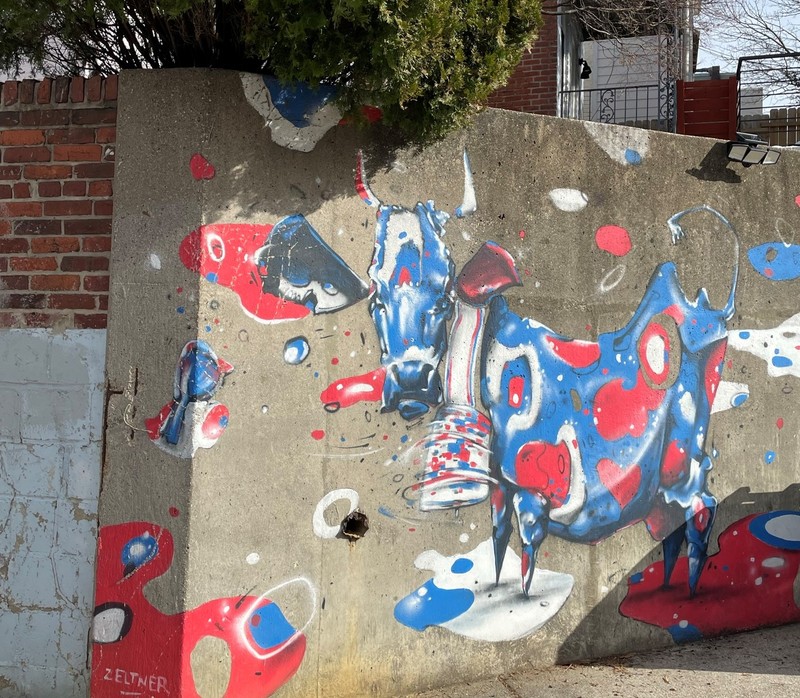 Red cows, blue cows and puddles of milk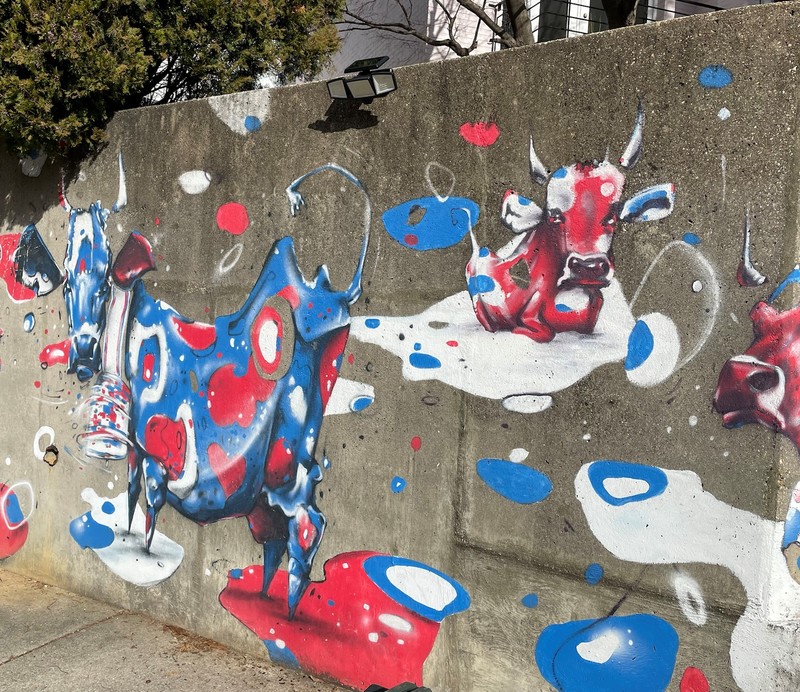 Cow's head turning the corner, detail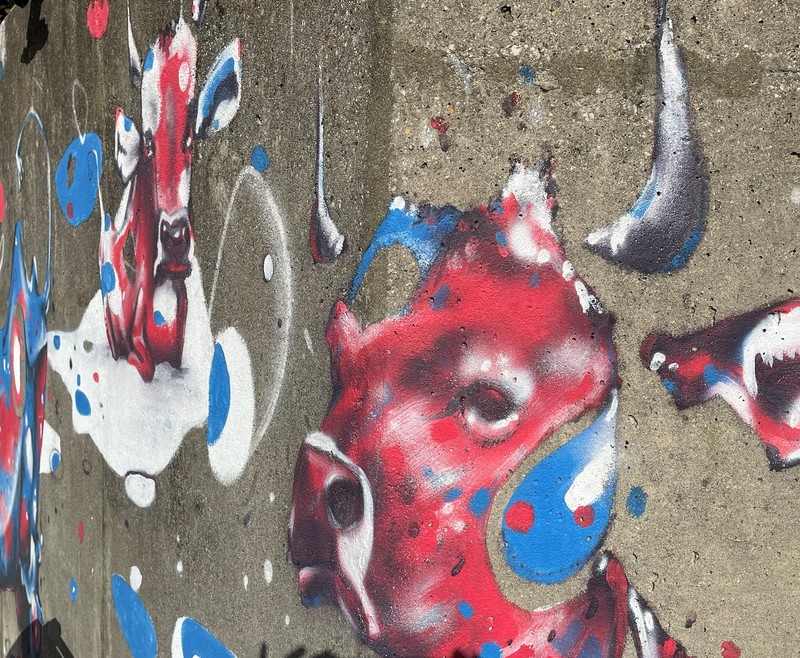 Zeltner at work on an outdoor mural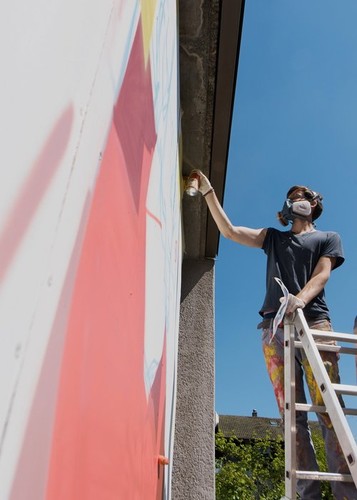 "Women" in Washington, D.C. sharing a drink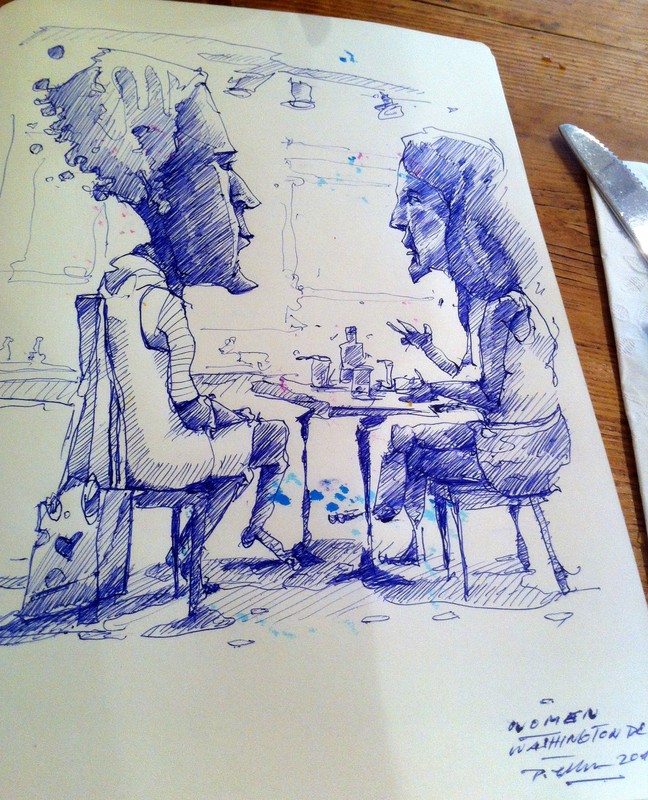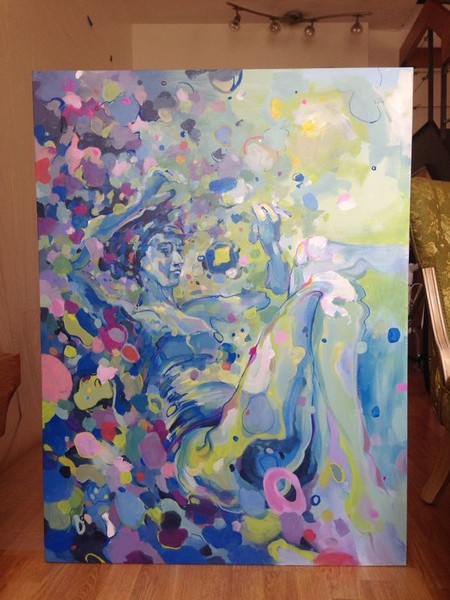 Detail of large exterior mural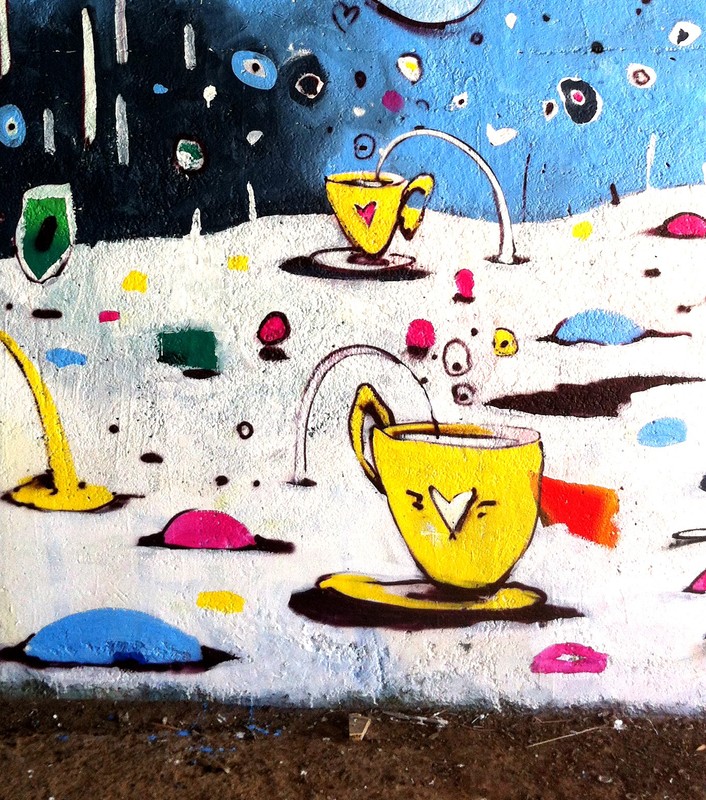 Backstory and Context
According to Zeltner's biography: "The creative and free expression in the graffiti art inspires him. Traces of American graffiti [] are visible in the style of his drawings and illustrations today." In the tradition of street graffiti, Zeltner paints directly on the unprimed wall. He was born in Basel, Switzerland (1984) and has quite a following for his murals, canvas, and paperwork art. He attended the Basel design school and spent several years working as a screen printer and graphic designer.
Why the cows? According to the artist, "It was kind of a joke. I'm from Switzerland and I did let some Swiss cows in Washington... I placed them in front of the White House...(should be the White House not the Capitol)...In another meaning you can say that we are all cows whom doing our business every day...we are eating in front of the White House/in front of the politicians and their decisions...
I wanted to paint something bright & easy going...it is peaceful... Something that gives you a smile...in the same time we have the White House in the back...so you can also understand it like this: when we would behave and treat us like cows/or animals...we would maybe live in a more peaceful environment...? these are just thoughts. Zeltner concludes, it "would be great to come back to Washington, D.C. and paint another wall there!"
Sources
Personal communication with Daniel Zeltner, January, February 2022
DC History Preservation Office, HistoryQuestDC
Daniel Zeltner website (see link below)
Image Sources
Vogt/Leone, 2021

Vogt/Leone, 2021

Leone, Vogt, 2021

Singular Art (website below)

Zeltner's personal sketchbook, 2014

Zeltner collection, 2014

Zeltner collection

Additional Information