Story Book Row and Foggy Bottom's "Octagon" House
Introduction
The row houses of 25th Street transition from the typical Foggy Bottom facades to a group of six houses with unusual and fanciful combinations of architectural elements, which may have appealed to German brewery workers. This group of narrow houses represent the creativity and the skill level of builders and craftsmen. No. 811 features a vertical yellow sculpture, "Five Tap Roots," installed as part of the 2014 Arts in Foggy Bottom exhibition. At the end of 25th Street is a distinctive yellow turreted house built in 1890, sometimes referred to as "Foggy Bottom's Octagon House."
Images
West side of 25th St. (Nos. 822-828)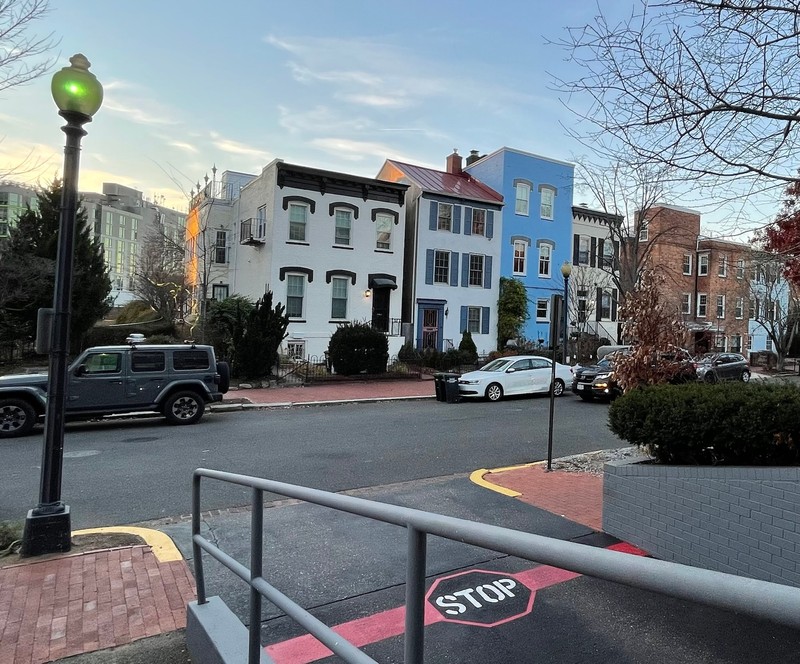 Vintage west side of 25th St. (Nos. 822-828)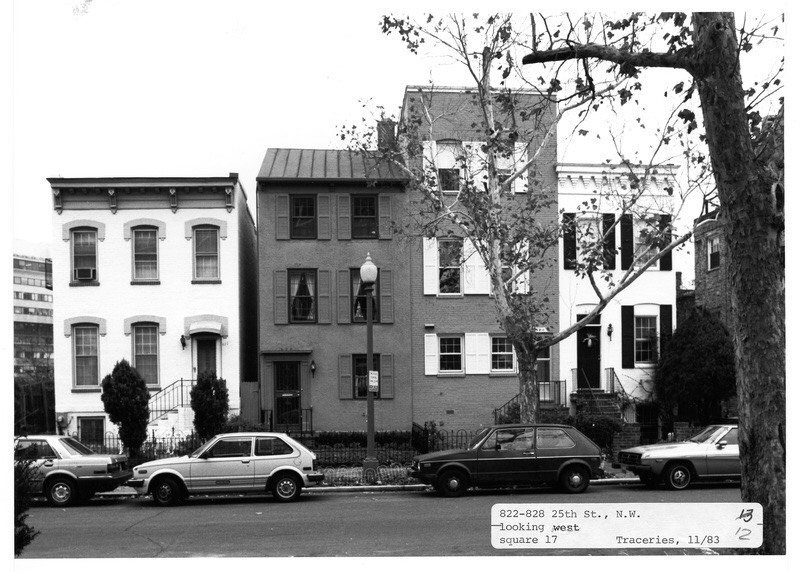 Spring gardens on west side of 25th St.
Traditional meets fanciful row houses on 25th St.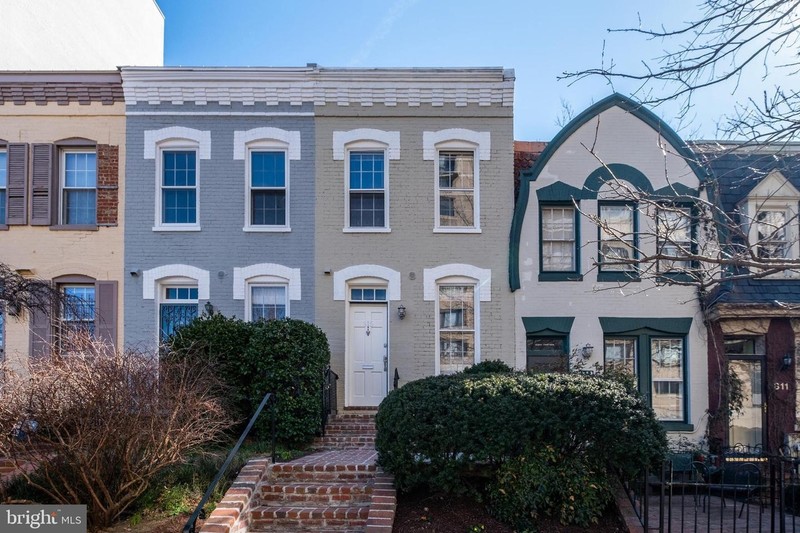 Traditional row houses and houses with gabled and mansard roofs (25th St.), including Dalya Luttwak's sculpture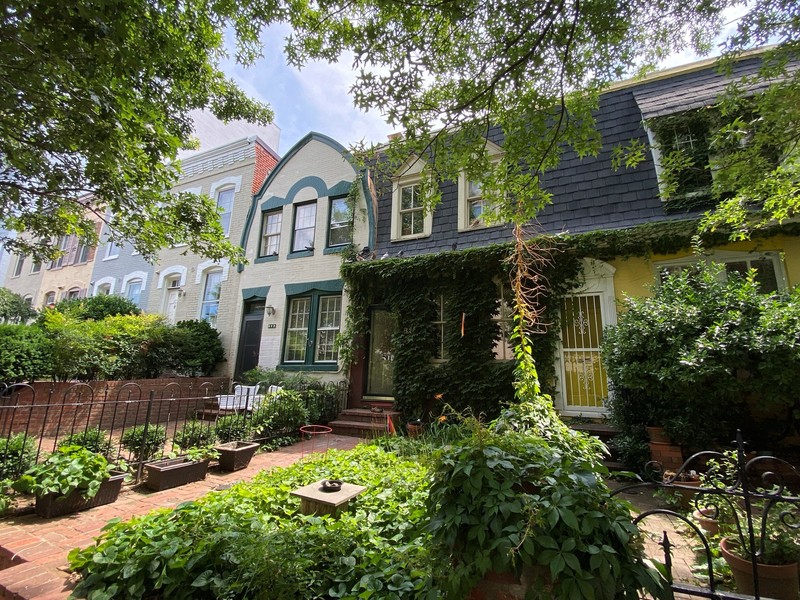 Storybook houses on 25th St.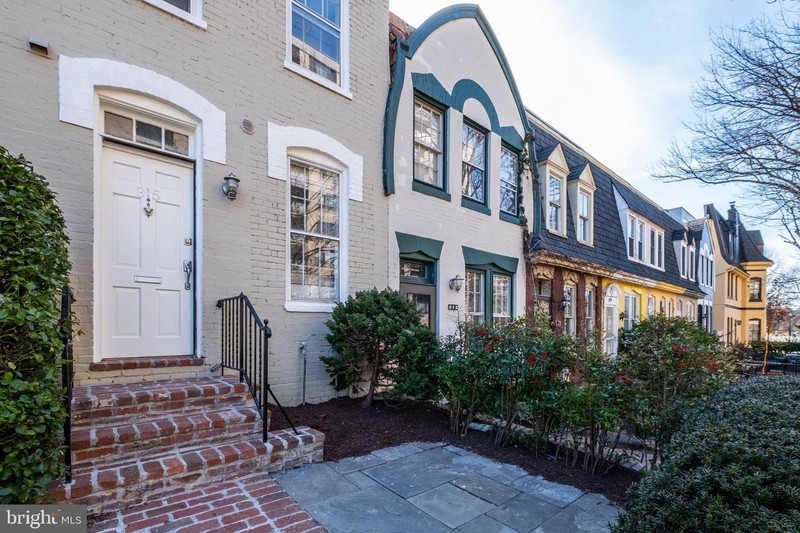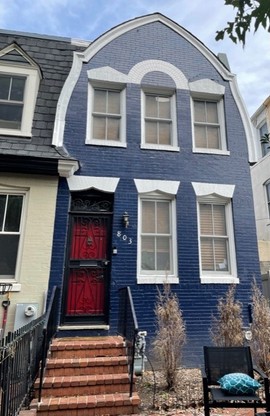 Foggy Bottom's "Octagon House"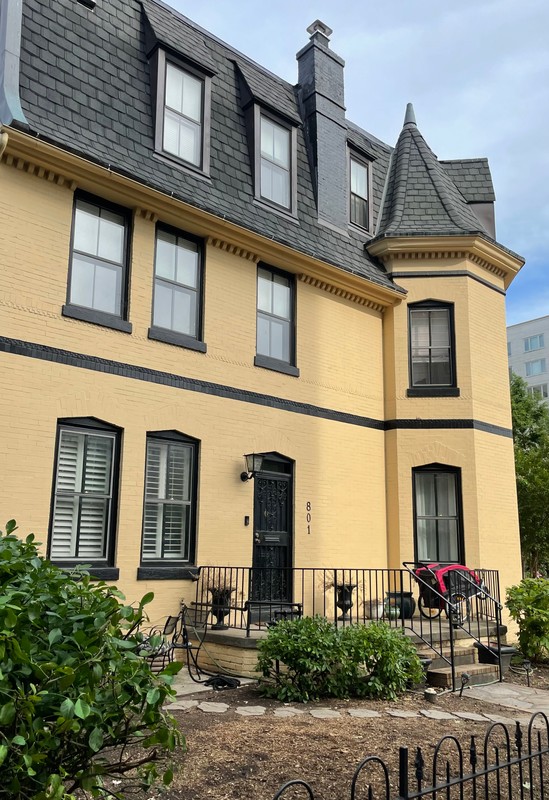 The "Octagon House" anchors the corner of 25th and H Sts.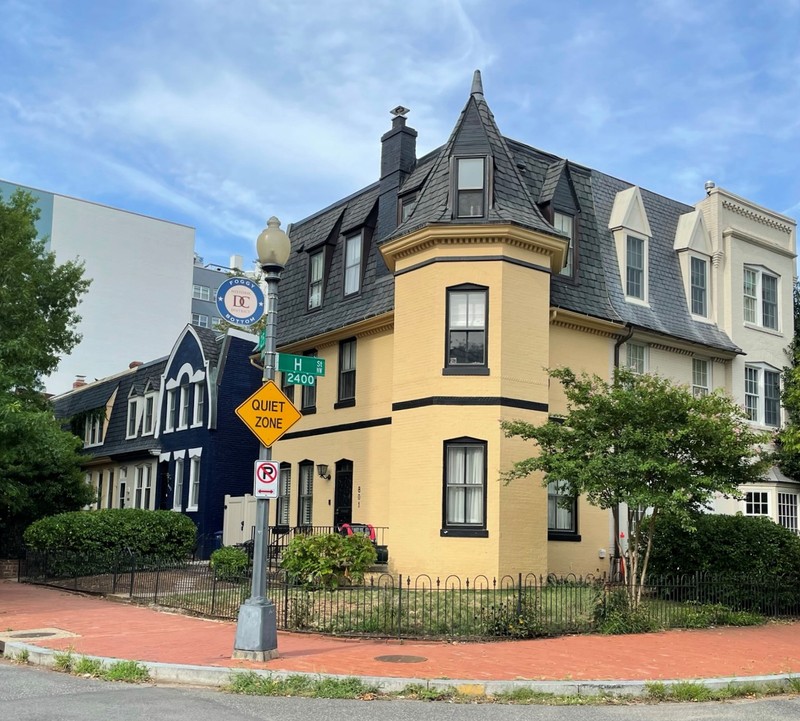 Foggy Bottom author Thomas Mallon's novel, Two Moons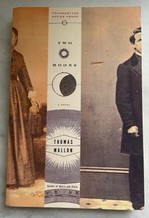 Aerial View of of 25th St - row houses replaced by a parking lot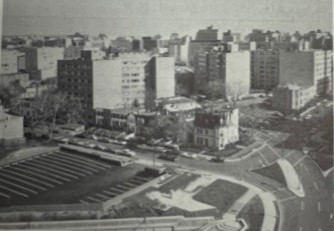 Backstory and Context
Looking across the to the west side of 25th St. (Nos. 822-828) are four relatively plain individual buildings with varying roof heights and greater depth than the houses across the street. The first three were built in 1886 by John Scanlon, a prosperous saloon keeper. The last one (No. 822) is two stories high and three bays wide - it was built in 1878 for P. Hough. To the south of those buildings is the Plaza Co-op, but from at least the 1920s to the 1950s, it was the site of the African American Mt. Lebanon Baptist Church (814-816 25th St.). Walking past the back entrance of the Arc Hotel are four typical Foggy Bottom row houses (815-821 25th St.). They were built in 1885, with similar flat facades, brick arches, and a cornice that connects the four buildings.
The next group (803-813 25th St.), built in 1890, are very unusual. As stated in the Historic District Nomination, the houses' "vernacular design elements" include "bellcast roofs, lancet windows, Flemish gables, and peaked lintels." Neighborhood lore indicates that photographs of the houses were circulated in Germany to attract brewery workers. In fact, the houses were built five years before the Heurich Brewery arrived in Foggy Bottom, relocating from 20th St. (five blocks away), in 1895. But the "story book" houses could have appealed to German immigrants. The houses were designed by architect Chas. E. Burden, and built by Frank N. Carver for Chas. Early and J.P. Jones. This team was also responsible for 801 25th Street.
No. 811 displays part of artist Dalya Luttwak's sculpture, "Five Tap Roots." Ms. Luttwak's metal sculptures reveal what plant nature prefers and needs to conceal, its roots. At the time of the Arts in Foggy Bottom exhibition, the installation included several yellow root like sculptures of varying sizes.
The distinctive, multi-sided corner house (801 25th St.) features a turret-mansard roof combination – common in D.C. Victorian houses, but relatively rare in Foggy Bottom. Built in 1880, the Budd family lived in this large house with their adult children and some of their spouses in the 1900s. During the 1920s-1940s, the house was occupied by laborers, messengers, a charwoman, a driver, and an undertaker. In 1960, accomplished architect Melita Rodeck was hired to renovate the house - she liked her renovations so much that she moved there from nearby Potomac Plaza.
Ms. Rodeck lived here for 43 years, moving out only when she became unable to navigate the flights of stairs. When she purchased the house, it was deteriorating and a risk to visitors. She made several changes to the improve the stability of the structure and create a more functional modern living space. The house still had a total of six rooms on three floors. Ms. Rodeck is same architect who designed the row houses on Queen Anne's Lane. She sold the house to novelist Thomas Mallon. His works include "Two Moons" (2001), a historic novel story set at the Naval Observatory in 1877. The observatory at that time was located in Foggy Bottom on the hill across 23rd St. from the State Department. 
Sources
"Foggy Bottom's Octagon House," Foggy Bottom News, Feb., 1960
Mallon, Thomas, "At large and at small: A House in Foggy Bottom," The American Scholar, Vol. 73, No. 2 (Spring 2004), pp 5-9
DC Historic Preservation Office, HistoryQuest (see link below)
Image Sources
Vogt/Leone, 2021

Traceries, 1983

Vogt/Leone, 2021

Redfin, 2021

Leone/Vogt, 2021

Redfin, 2021

Vogt/Leone, 2021

Leone/Vogt, 2021

Leone/Vogt, 2021

Pantheon Books, 2001

Foggy Bottom News, 1966

Additional Information