Laugh-O-gram Films Studio
Introduction
Laugh-O-gram Films was Walt Disney's first professional animation studio, incorporated on May 23, 1922. It operated out of a suite of offices on the second floor of the newly-finished McConahay Building. Walt Disney and his animation team created satirical fairy tale shorts using stop motion and live action, calling them Laugh-O-grams. However, the studio quickly began to struggle financially. For a brief time, Disney lived in the Laugh-O-gram studio and met a brave little mouse living in his desk that would later be the inspiration for Mickey Mouse. Laugh-O-gram Films filed for bankruptcy in July 1923 and Disney left for Hollywood with $40 and unfinished footage of "Alice's Wonderland." Several of Disney's partners from Laugh-O-gram followed, becoming the pioneers of the Golden Age of Animation. Today, the McConahay Building is owned by the non-profit group Thank You, Walt Disney Inc. who saved the deteriorating building from demolition. They are working to restore the building, creating an interactive learning space and the first landmark in Kansas City honoring Walt Disney and the legacy he started here.
Images
Laugh-O-gram Films operated from the second floor of the McConahay Building.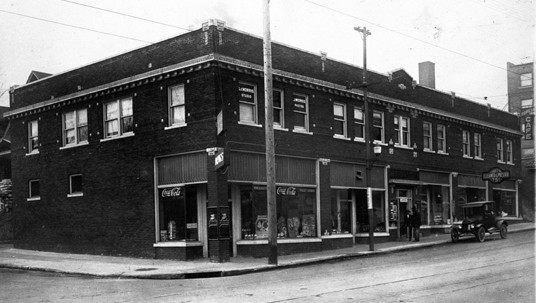 Inside the Laugh-O-gram studio. Note: Walt Disney never capitalized the "g" of "gram" as seen in the posters here.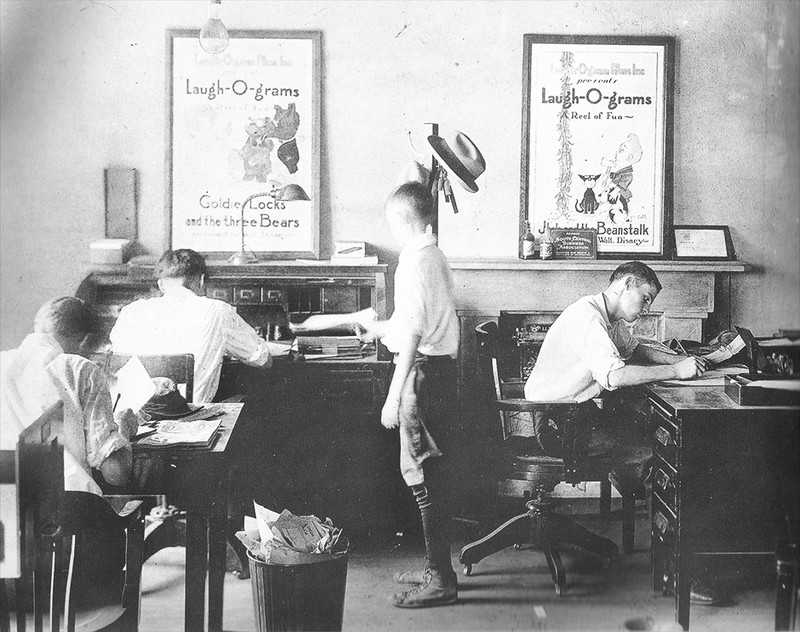 The help-wanted ad for Laugh-O-gram Films, Inc.

Little Red Riding Hood was Laugh-O-gram Films first full length cartoon.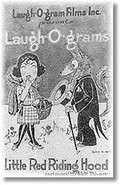 Alice's Wonderland was the first animation to feature a live actor in a cartoon world.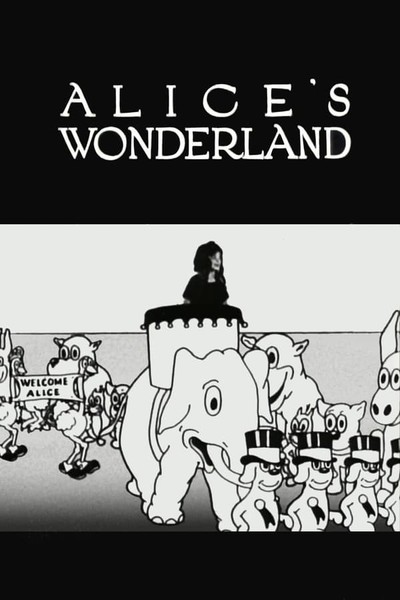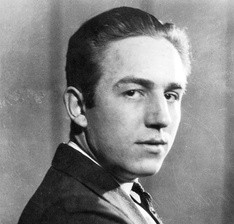 Walt Disney with Margie Gay (played Alice in later films) kneeling in front of (from left to right) Walker Harman, Ub Iwerks, Hugh Harman, Rudy Ising, Friz Freleng, Roy Disney and (front Courtesy of Dan Viets and State Historical Society of Missouri.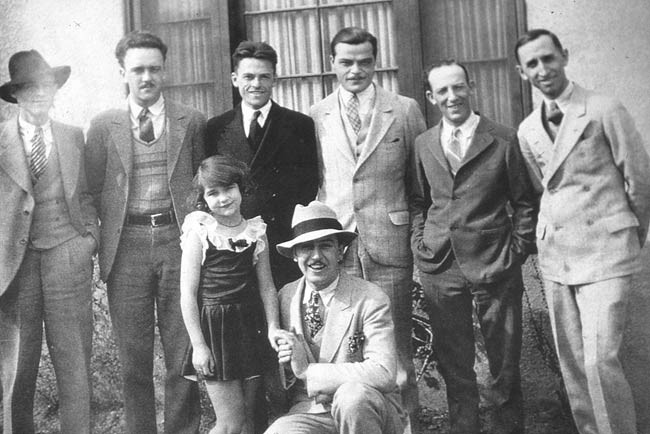 Backstory and Context
Prior to opening Laugh-O-gram Films, Walt Disney worked for Kansas City Film Ad Company where he gained much experience in animation. While at Film Ad, Walt borrowed a movie camera from his boss A. V. Cauger to experiment in a make-shift studio in the garage behind his family home on Bellefontaine. In his free time, he created a series of humorous cartoon film shorts based on local events he found in the newspaper. Using stop motion and live action, Walt called them Laugh-O-grams. He pitched a sample reel to the manager of Newman Theatre, who was impressed and contracted Disney for more. 
Around this same time, Walt's father sold their home so he found a place to live and rented a small office space with his co-worker Fred Harman. They called this small work space KayCee Studio, eventually hiring Fred's younger brother Hugh and friend Rudy Ising. At KayCee, the men started creating their own version of Laugh-O-grams, which were satirical cartoons based off of Aesop's fables and fairy tales. Their first full-story cartoon short was "Little Red Riding Hood." The success of Newman Laugh-O-grams and the confidence in his new Laugh-O-grams gave Disney the idea to leave Kansas City Film Ad and start a professional studio. Laugh-O-gram Films was incorporated on May 23, 1922. 
Walt raised about $15,000 and moved Laugh-O-gram Films Incorporated into the newly-completed McConahay Building at 31st and Forest, occupying five rooms on the second floor. Walt brought along his KayCee team, assembled a small staff of novice artists through a newspaper ad, as well as hired a girl for ink drawings, a business manager, a salesman, and a secretary. Ub Iwerks would join later in the fall. One of the first contracts Laugh-O-gram Films landed was from Pictorial Clubs, a nontheatrical film distribution company out of Tennessee. The $11,000 contract called for a series of six animated fairy tales, including "Little Red Riding Hood" (previously made at KayCee Studio), $100 up front, and the stipulation that the rest would be paid upon completion in January 1924. The Laugh-O-gram crew started working on the other five shorts right away; they were "Jack and the Beanstalk," "The Four Musicians of Bremen," "Goldi Locks and the Three Bears," "Puss In Boots," and "Cinderella." However, Pictorial Clubs filed bankruptcy before Disney was ever paid. 
Within months, Laugh-O-gram was struggling financially. Disney cut some of his staff, cut the pay for his remaining artists, and cut his work space down to two rooms. Walt also gave his employees shares of stock in Laugh-O-gram in lieu of pay, not realizing they would later become worthless. They even dined on credit in Forest Inn Cafe, located in the space below the studio. Due to the circumstances, Disney moved out of his apartment and into the Laugh-O-gram studio. He once recounted, "It was a pretty lonely and miserable time of my life." One night while living at Laugh-O-gram, Walt woke up and noticed a mouse eating crumbs from a wire waste basket. He found the mouse's nest in the bottom drawer of his desk and began feeding and training it like a pet, calling him Mortimer. Though drawn by Ub, Mortimer would later be the inspiration behind Mickey Mouse in 1928. 
By the fall of 1922, the team had started creating "Alice's Wonderland", which was the first time a human actor moved through a cartoon environment. Walt was sure "Alice" would recover Laugh-O-gram Films, but he was still unable to pay bills while they were filming. In January 1923, he received a summons from the owner of the McConahay Building for his unpaid rent. Walt first secured a $500 loan through Fred Schmeltz, the owner of a local hardware store, in exchange for three sets of motion picture lights as collateral. Later, Schmeltz sent $750 more, this time for the rest of the studio's accessible assets. It wasn't enough so Walt sought out work from locals. This work included a dental hygiene film called "Tommy Tucker's Tooth" for dentist Thomas McCrum, baby photo shoots, and a sing-along reel for a silent film called "Martha" that was debuting at the Isis Theatre. This "Song-O-Reel" was accompanied by the song "Martha: Just a Plain Old Fashioned Name" written by Joe L. Sanders of the Coon Sanders Band and produced by Jenkins Music Company. The Isis Theater's organist Carl Stalling played the music to the song reel, which was the beginning of Stalling and Disney's relationship. 
In the meantime, Walt was still confident in "Alice's Wonderland." He wrote a pitch letter to the cartoon series "Out of the Inkwell" and "Felix the Cat" distributor Margaret Winkler in New York. However, production was slow at Laugh-O-gram with minimal staff and "Alice" was never finished. The studio moved out of the McConahay Building and into the Wirthman Building, which housed the Isis Theatre. Within weeks it was clear Laugh-O-gram would not survive. In July 1923, Laugh-O-gram Films filed for bankruptcy. Disney said goodbye to Kansas City and departed the California Limited train from Union Station with $40 in his pocket, a change of clothes, some drawing materials, and the unfinished "Alice" footage. 
Once Walt got to California, he stayed with his uncle Robert. He had hopes of getting into the film industry and was discouraged about his timing in cartooning. At that time, cartoon animation was only being produced on the east coast. But it wasn't long before Walt wrote back to Margaret Winkler in New York. She offered a contract for a series of "Alice" productions, but under the condition that they use the same girl, five year old Virginia Davis. Walt wrote the news to the Davis family and they promptly headed west to continue filming under a one-year contract. Walt partnered with his brother Roy, who helped film and acted as a business advisor. Disney Brothers Cartoon Studio was founded on October 16, 1923. The first reel of the "Alice" comedies was potentially the last footage ever shot by Walt Disney in Kansas City and the first completed series for Disney Studios. 
Thank You, Walt Disney Inc. & the Restoration of Laugh-O-gram
Saving it from demolition, the McConahay Building was acquired by the non-profit group Thank You, Walt Disney Inc. in the late 1990s. At this time, the building was very dangerous. The roof had fallen in due to leaky skylights, the second level floor had collapsed into the ground level, and the exterior brick structure was no longer sound. The city required TYWD to deconstruct and rebuild a portion of the north facade because of bowing. They used temporary flying buttresses anchored in 3 ton blocks of concrete to stabilize the walls while under construction. In an effort to restore as much of the original building as possible, the same bricks taken down were used in the reconstruction. Plans for the interior include the addition of a digiStory animation studio as a training space for digital media storytelling, a co-working office space for new media start-ups, and a museum that shares the history of the building and community. This interactive historical site will also feature a mini-Screenland theatre, thanks to founder Butch Rigby. 
The restoration of the Laugh-O-gram building will help to revitalize the vibrancy of this once-bustling commercial district, as well as become the first monument recognizing Walt Disney and the legacy he started here, in Kansas City. 
The Golden Age of Animation 
Walt Disney was not a great businessman but had passion, a vision, and could recognize talent. Many of the men he worked with and trained became the pioneers of the Golden Age of Animation. 
Ubbe "Ub" Iwerks (1901-1971) met Walt at Pesmen-Rubin Studio in 1919, became partners in Iwerks-Disney Studio, worked together at Kansas City Film Ad, and again at Laugh-O-gram. Ub went to Hollywood in 1924 upon Disney's request and became his chief artist until 1930. He helped complete the "Alice" series and created Oswald the Lucky Rabbit and Mickey Mouse, which first appeared in his solely-animated short "Plane Crazy." Ub was also an innovator, creating the "xerox" process of photocopying, the multiplane animation camera, and the 360-degree film experience Circarama, to name a few. He won Academy Awards for designing the "wet gate" printer (1960) and the traveling matte technique (1965), as well as an Oscar nomination for best picture for Alfred Hitchcock's The Birds (1963).
Isadore "Friz" Freleng (1906-1995) partnered with Rudy Ising and Carman Maxwell to form the Arabian Nights studio in the Wirthman Building. Disney invited him to California where he worked on the "Oswald" and "Alice" series, as well as created Porky Pig. He joined Warner Bros. in 1931 and became their animation director, with over 260 cartoons bearing his name. Later, he co-founded DePatie-Freleng Enterprises where he created the Pink Panther and contributed to Yosemite Sam, Sylvester the Cat, Tweety Bird, Daffy Duck and Speedy Gonzales.
Fred Harman (1902-1982) worked with Disney in his earliest days of animation. He went on to become an incredible painter inspired by western scenes, and later worked with Stephen Slesinger in New York, best known for the "Red Ryder" comic strip.
Hugh Harman (1903-1982) went to work with Disney Studios in 1925 after the Arabian Nights studio fell through in Kansas City. Hugh partnered with Rudy Ising in 1929 to create "Bosko the Talk-Ink Kid" which was contracted by Warner Bros., ultimately establishing their animation department. They created "Looney Tunes" series and "Merrie Melodies" before going to Metro-Goldwyn-Mayer (MGM) in 1933 where they also created that studio's first animated production. 
Rudolf "Rudy" Ising (1903-1992) was first hired by Disney for KayCee studio and Laugh-O-gram. He went to California with Hugh Harman where they founded the animation departments for Warner Bros. cartoons and later MGM. Along with "Looney Tunes" and "Merrie Melodies," Ising created "Puss In Boots" with characters Tom and Jerry created by cartoonists Hanna and Barbera. 
J. B. "Ben" "Bugs" Hardaway (1895-1957) first worked as a cartoonist for Kansas City Film Ad and as a writer for Disney and Iwerks in the 1930's. Friz Freleng brought on Hardaway as a gag man when they left MGM for Leon Schlesinger Productions, the predecessor to Warner Bros.. Hardaway is credited for creating Bugs Bunny, in which "Bugs" was his nickname in the Army, and is the co-creator and voice of Woody Woodpecker. 
George "Jimmy" Lowerre (1893-1962) was the cameraman at Kansas City Film Ad who trained Walt in film animation. He worked with Disney for 28 years as a film editor. 
Walt Pfieffer (1901-1976), Disney's childhood friend and Laugh-O-gram associate, went to California in 1935 and spent his career in story development and studio management with Disney Studios.
Carl Stalling (1891-1972), the organist for Isis Theatre, became known as the father of the animated cartoon score. He served as the musical director for Disney Brothers Studio in the late 1920s, creating sounds and music for animations like "Mickey Mouse" and "Silly Symphonies."  He composed for around 1,000 cartoons for Warner Bros. from 1936 to 1958. 
Sources
Dan, Viets. Brian, Burnes. Walt Disney's Missouri: The Roots of a Creative Genius. Edition Illustrated. Kansas City, Missouri. Kansas City Start Books, 2002.
Susanin, Timothy S.. Walt Before Mickey - Disney's Early Years, 1919-1928. University Press of Mississippi, 2011.
The Legacy of Laugh-O-gram, digiStory. Organized by Ron Green. https://vimeo.com/user40088567.
Stahly, Nichole. Kansas City Film Ad Company, Clio Foundation. March 21st 2022. Accessed March 28th 2022. https://theclio.com/entry/147502.
Thank You, Walt Disney Inc.. Accessed March 28th 2022. https://thankyouwaltdisney.org/.
Image Sources
https://www.laughogram.org/

https://www.visitkc.com/filmtourism/self-guided-tour/laugh-o-gram

https://www.hollywoodanimationacademy.com/wp-content/uploads/2020/05/disneykc.pdf

https://www.imdb.com/title/tt0013323/

https://www.themoviedb.org/movie/146730-alice-s-wonderland

https://thankyouwaltdisney.org/

https://historicmissourians.shsmo.org/walt-disney

Additional Information