Harry S. Truman Presidential Library & Museum
Introduction
Author-Uploaded Audio
Since its opening in 1957, the Harry S. Truman Presidential Library and Museum has offered a research library and galleries that preserve and share the history of Harry Truman's life and presidency. This was also the first Presidential Library established following a 1955 law that supported the creation of these institutions. Truman personally worked to build the library and maintained a personal office which has been preserved and serves as one of the highlights of the tour. Today, the library helps bring the late President's life and legacy to light for modern scholars and everyday Americans through exhibits and a vast archival collection of documents from the Truman Administration.
Listen to the clip below under Backstory and Context when you are on the Truman Walking Tour!
Images
Like President Franklin Delano Roosevelt before him, President Truman personally oversaw the creation and direction of his library and archives.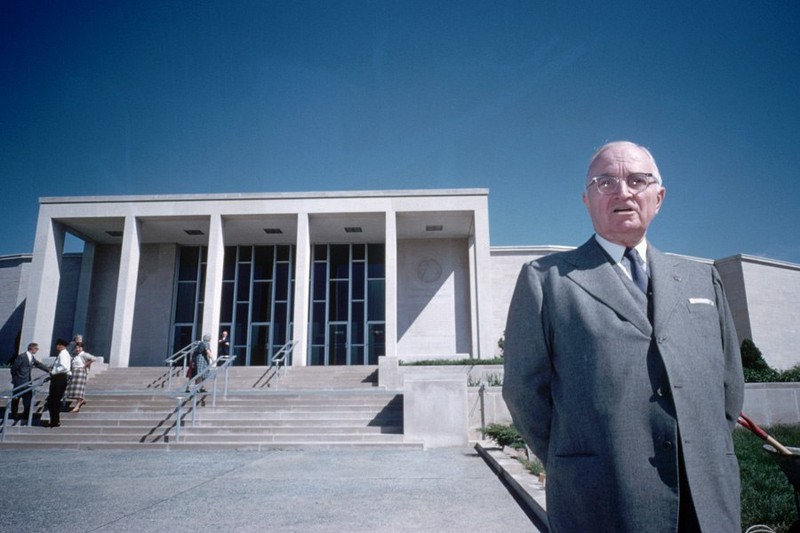 The museum features many attractions and exhibits including a scale replica of President Truman's Oval Office while in the White House pictured here.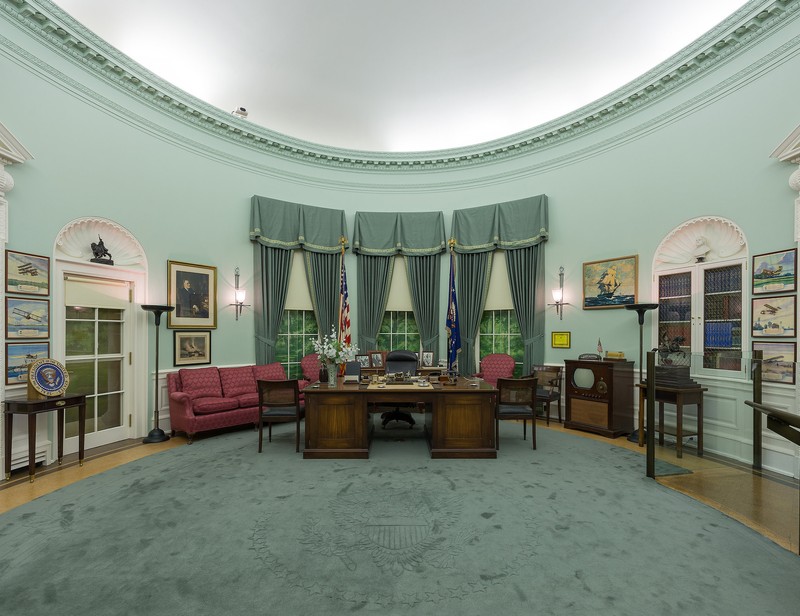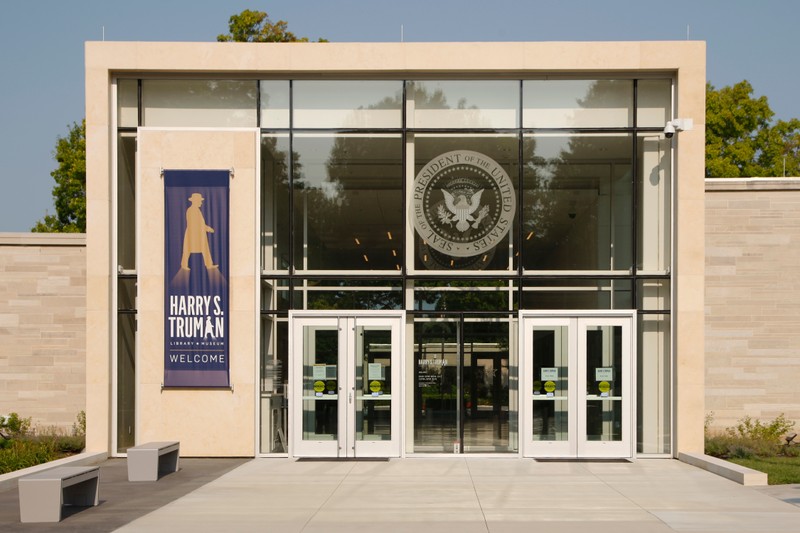 Backstory and Context
Author-Uploaded Audio
During the Eisenhower Administration in Washington, Congress passed the Presidential Libraries Act of 1955. The new law allowed for the creation of privately-funded organizations and institutions that would operate Presidential museums with federal support. Prior to this law, President Roosevelt's library was established between 1940 and 1941. The 1955 law has supported the creation of fourteen libraries as of 2016. 
Truman began planning for his Library and Museum almost immediately after being sworn in as President, well before the Federal Archives set up its system. The effort to fund and build the library was led by the Harry S. Truman Library Incorporated and supported by donations from more than 17,000 individuals and organizations. The groundbreaking ceremony for the Harry S. Truman Presidential Library & Museum took place on May 8, 1955, Truman's 71st birthday. It opened to the public on July 6, 1957. Truman dedicated much of his time and energy to the library and museum until his death in 1972. He maintained an office (now preserved as an exhibit) where he spent time writing his memoir, answering letters, giving tours, and speaking to many students who visited the library. After his death, he was buried within the library in the courtyard. His wife, daughter, and son-in-law were later buried there as well.
The 70,000 square foot library was originally designed by the Gentry and Voscamp, Architects, firm at a cost of $1.75 million. Since then, the building has undergone a series of expansions and renovations over the years. In 1967, the Library and Museum had an addition added to the southern wing that was used for office space, storage, and exhibit preparation. Again, in 1979, an east wing was added, expanding the libraries total square footage to 100,000 square feet.  Recently the Library and Museum has begun an ambitious multi-million dollar renovation to completely redesign the entire property. The plans, which include creating a walking trail leading to Truman's boyhood home, are expected to be completed in 2020.
The Truman Library is situated upon a 13.2-acre portion of the twenty-two-acre Slover Memorial Park. The structure is irregularly shaped and includes stack areas, staff offices, conference and seminar rooms, an auditorium, a research room, and storage areas. The research room, located near the north entrance, allows for the public to access the manuscripts, oral histories, and other materials relevant to the life of President Truman. Many of these items were transferred to the library during the dedication ceremony, including about 10,000 books, gifts, and mementos which Truman had received during his presidency. The Library's main collection is the papers associated with Truman's White House, but there are numerous other documents regarding other parts of his life.
The Library is also the home to a museum examining different parts of Harry Truman's life. One of the permanent exhibits, the "Presidential Years," provides information, artifacts, and videos regarding many of the decisions and events that took place during 1945-1953. In this exhibit, one can see a replica of Truman's Oval Office. The other permanent exhibit revolves around Truman's life. In this exhibit, "Truman: His Life and Times," one can view areas dedicated to his childhood, military service, years in the Senate, and life after the Presidency. In addition to the two permanent exhibits, there is a location where the museum presents different temporary exhibits. In 2018, the Library & Museum acquired the entire collection of the defunct Korean War Veterans National Museum & Library in Springfield, Illinois. It plans to incorporate these artifacts in future exhibits. 
Sources
Biography. "Mini Bio: Harry Truman" (video). Posted May 8, 2014. Accessed April 21, 2018. https://m.youtube.com/watch?v=m8zA432hiJg
Campbell, Matt. "Korean War uniforms, firearms and other artifacts transferred to Truman Library. March 15, 2018. Accessed April 22, 2018. https://www.kansascity.com/news/local/article205265449.html
"Harry S. Truman: Life After the Presidency." Miller Center of Public Affairs. Accessed February 17, 2017. http://millercenter.org/president/biography/truman-life-after-the-presidency. 
"History of the Truman Library & Museum." Harry S. Truman Presidential Library & Museum. Accessed April 22, 2018. https://www.trumanlibrary.org/libhist.htm
Kayser, Stephanie. "Truman Library to undergo extensive renovations." KCTV News 5. April 1, 2017. Accessed April 22, 2018. http://www.kctv5.com/story/34650003/truman-library-to-undergo-extensive-renovations.
McCullough, David. Truman. New York, New York: Simon & Schuster, 1992.
OfficialBestOf. "Harry S. Truman Library and Museum – Best Educational Experience – Missouri 2014" (video). Posted December 4, 2014. Accessed April 21, 2018. https://www.youtube.com/watch?v=04WXOlDh6GE
"Presidential Libraries." National Archives. August 15, 2016. Accessed February 19, 2017. https://www.archives.gov/presidential-libraries/laws/1955-act.html. 
"Presidential Library History." National Archives. Accessed April 22, 2018. https://www.archives.gov/presidential-libraries/about/history.html
University of Missouri. "Truman Places." Trumanlibrary.org. Accessed February 19, 2017. https://www.trumanlibrary.org/places/in25.htm. 
US National Archives. "Harry S. Truman – The Truman Library" (video). Posted October 8, 2009. Accessed April 21, 2018. https://m.youtube.com/watch?v=zPJToYKQMR8
Additional Information